CATS Luton HQ (Basepoint)
Tel: +44 (0) 1582 434 222
Email: info@catsaviation.com
CATS Luton Centre opened 1st November 2009
CATS, Innovation Centre
110 Butterfield
Great Marlings
Luton
Bedfordshire
LU2 8DL
DIRECTIONS:
Turn off the A505 at the roundabout beside the Hilton Garden Inn hotel, then turn left into the Basepoint Innovation Centre site. After parking in the large car park, you will be directed to the CATS Training Centre by the staff at the Basepoint front desk.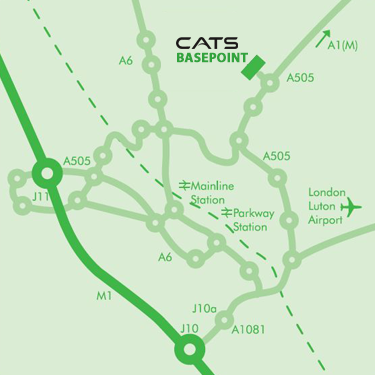 Contact us
CATS, 110 Butterfield,
Luton, LU2 8DL
+44 (0) 1582 434 222
info@catsaviation.com
The ISO 9000 family of quality management systems (QMS) is a set of standards that helps organizations ensure they meet customer and other stakeholder needs within statutory and regulatory requirements related to a product or service. ISO 9000 deals with the fundamentals of QMS, including the seven quality management principles that underlie the family of standards. ISO 9001 deals with the requirements that organizations wishing to meet the standard must fulfill. CATS meets requirements of the ISO 9001 standard.