CATS Luton HQ (Basepoint)
Tel: +44 (0) 1582 434 222
Email: info@catsaviation.com
CATS Luton Centre opened 1st November 2009
CATS, Innovation Centre
110 Butterfield
Great Marlings
Luton
Bedfordshire
LU2 8DL
DIRECTIONS:
Turn off the A505 at the roundabout beside the Hilton Garden Inn hotel, then turn left into the Basepoint Innovation Centre site. After parking in the large car park, you will be directed to the CATS Training Centre by the staff at the Basepoint front desk.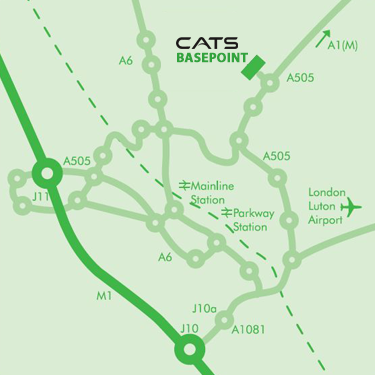 CATS Gatwick Groundschool Location (Beehive)
CATS Gatwick site opened 1st November 2011
The Beehive
City Place
Beehive Ring Road
RH6 0PA
DIRECTIONS:
Turn off the M23 at Junc 9 and go straight over the South Terminal roundabout. Take a right at the North Terminal roundabout onto the A23. Do u-turn at next roundabout to take A23 to Crawley and pass under airport buildings in a tunnel. Turn left into City Place just before the next roundabout. The Beehive is on your right at the end of the Plaza, use the intercom at the barrier to access the car park.
The staff at The Beehive front desk will direct you to the CATS Training Centre.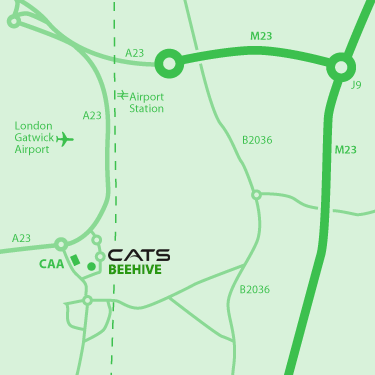 Contact us
CATS, 110 Butterfield,
Luton, LU2 8DL
+44 (0) 1582 434 222
info@catsaviation.com